UFOs and The Nature of Reality: Preparing for Contact
Understanding Alien Consciousness, Interdimensional Mind, and the Future That Awaits the Human Race
by Ramtha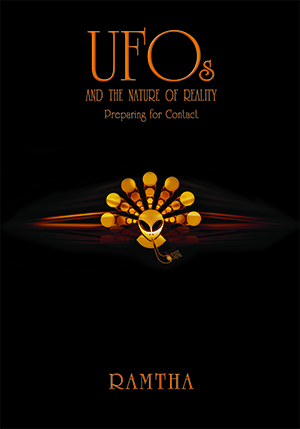 Description:
Hot Summer Sale!!
20%% discount!
Regular Price $24.95
Ramtha's initial teachings on UFOs and alien contact were originally published in 1988.
Ramtha's message is unique in contrast to other traditional and popular explanations of UFOs regarding the nature and purpose of their occupants and alien visitors to our home planet.
He removes the superstition and fear, the separation, and any sense of inferiority or need to worship that people may feel toward other alien races regardless of how technologically advanced they may be.
He also points out what makes human beings unique and an integral part of a great, long-awaited, and carefully-planned future beyond contact and describes it in terms of interdimensional mind.
Ramtha's message for over four decades remains as consistent and powerful as ever: You are all equally Gods, the creators of reality in a quantum field of infinite possibilities. You are all aliens on an away mission of exploration and evolution to make known the unknown.
This newly revised and substantially expanded edition of UFOs and the Nature of Reality complements Ramtha's original teachings of Raiders from Above and UFOs: Interdimensional Understanding and Making Contact from 1988 with the groundshaking and recent prophetic teaching, The Opus of the Ram, delivered twenty-three years later in 2011.
We reconstructed the book entirely to incorporate these three teachings into one continuous flow in a single volume. This new edition is divided into three major parts: Part I: Alien Races on Earth, Consciousness, and Interdimensional Mind; Part II: The Great Armada and the War of Light; and Part III: Preparing for Contact and for the Future.
PRICE: $19.96
item#: 9781578731213
ADD TO CART

GO BACK
FEATURED ITEM AND PRODUCTS ON SALE