The Spiritual Journey Part III DESTINY AND MIND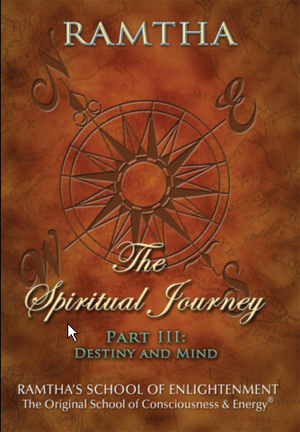 Description:
This third DVD is the capstone of Ramtha's teaching on the true meaning of the spiritual journey. In this part, Ramtha explains the intricate concept of mind, how we create it, and its power over time. "Understanding mind," declares Ramtha, "is what reveals the most divine in us and the key that takes us to the journey of dimensions." "Mind is the ground that you create to which the things, people, places, things, times, and events of your reality flourish on this stage."
"Our most divine quality, our holiest of holies, the gift that every master is utterly after is mind. When we develop mind consciously, we are developing the greatest self."
Ramtha's teaching in this DVD is a live recording from March 23, 2008, at Ramtha's School of Enlightenment in Yelm, Washington.
Subtitles Edition In Chinese, Dutch, English, French, German, Italian, Japanese, Portuguese, and Spanish
PRICE: $29.95
item#: D09SJ3
ADD TO CART

GO BACK
FEATURED ITEM AND PRODUCTS ON SALE