Ramtha: Mystery of Autumn (DVD)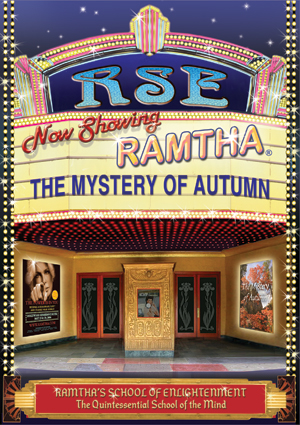 Description:
DVD SPECIAL SALE! 50% discount
Regular Price $24.95
The Mystery of Autumn DVD by Ramtha is a unique inside view into Ramtha s life-changing experience on the rock after being mortally wounded by the sword. He had become a legendary leader throughout the lands he conquered and to his people but now he had to conquer something much more challenging, himself. The new changes in nature happening around him, the cold winds, the frost, the majestic colors of his first autumn, gave him the insight he needed for his ultimate victory and enlightenment. It was his deep contemplation and observation of nature that helped him finally walk away from his rock and remember something that all humanity had lost, its divinity. This teaching was recorded live at Ramtha s School of Enlightenment on October 22, 2006. This DVD will transport you to the ancient times of Ramtha s lifetime and return you to the present with renewed insight and appreciation for nature and for yourself.
PRICE: $12.48
item#: D06MA
ADD TO CART

GO BACK
FEATURED ITEM AND PRODUCTS ON SALE