Genocide Jab: Vaccines, Villains, and Victims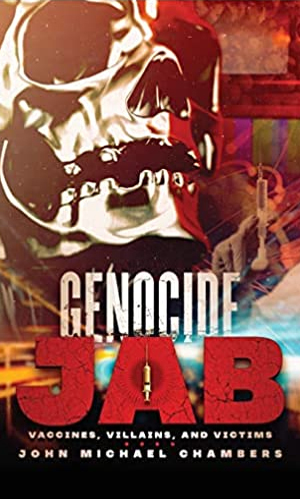 Description:
PRE-ORDER Books will arrive on or before March 8
Genocide Jab: Vaccines, Villains, and Victims
by John Michael Chambers
Genocide Jab includes the deep research of eight well-known medical doctors, a constitutional lawyer, a food scientist, two patent experts, a German chemist, a Spanish biostatistician, and a high-level biotech analyst who has worked for decades in the pharmaceutical industry with companies like Johnson & Johnson and Pfizer. World war is not just on the way. This is no simulation. It is here. Today's threat is real, making Genocide Jab critically important for widely exposing uncomfortable truths. This book is not about politics; instead, it puts the evidence before you, showing how we are all participants in this conflict that continues the struggle of good against evil, life versus death. Many have woken up to the threat, but a large portion of the masses are still unaware, leaving themselves open to avoidable ill health and worse. This drains funds from families who send their savings to insurance and drug companies, doctors, and hospitals; infirmity that slowly bleeds them dry, after which the population controllers achieve their ultimate goal-taking us out over time, while not being able to pin it on them. The covert battle happening right now is billions of honorable, average people against a relatively small group of world-controlling depopulationists. A great poisoning is the real pandemic. It's us or them. Please join the fight. When your children and grandchildren ask: "What were you doing as global governance was being thrust down the throat of America and the world?" What will be your answer?
PRICE: $29.95
item#: 9781977249838
ADD TO CART

GO BACK
FEATURED ITEM AND PRODUCTS ON SALE